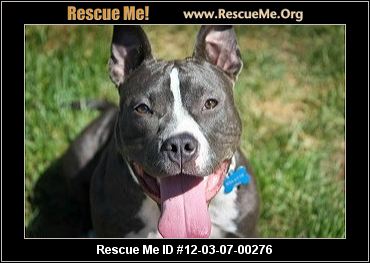 Animal ID:
Alice
(female)
Staffordshire Bull Terrier    Age: Puppy


| | |
| --- | --- |
| Compatibility: |  Good w/ Most Dogs, Good w/ Most Cats, Good w/ Kids and Adults  |
| Personality: |  Average Energy, Submissive  |
| Health: |  Spayed, Vaccinations Current  |
    Alice is a very sweet, social, attention loving 1 year old Staffordshire Bull Terrier. She has already been through a lot in her young life. As a Little pup Alice was abused, battered and then dumped into the Santa Maria River Bed, abandoned and left for dead. A good Samaritan found her and brought her to the Santa Maria County Shelter. She was in really bad shape. For several weeks dedicated volunteers worked with her daily, slowly helping her to learn to trust again, She was able to put on weight and gain strength. Then a couple months ago a wonderful family decided to foster her in their home to give her more time, to learn about love and ... (Read More)a life with a family who cared for her. She blossomed! Today, Beautiful Alice is ready for a special home with gentle people who are patient and loving. She has had extensive obedience training and does have a life-time of follow-up training from Doggi-Do-Good, should she falter on any of this training. She walks and heals beautifully on a leash, sits automatically when you come to a stop. She is such a social girl! She loves to play with other dogs, around her size, enjoys playing in water and has no problem getting in a pond. She enjoys playing with kids and the other big dogs in the household. She wants to play with smaller dogs too, but usually the smaller dogs don't want to play with her. She has 're-claimed' her 'puppyhood' and loves play with toys like a ball or a rope, and she loves to run like the wind around the back yard. At first, she may appear nervous or scared with some new people and situations, but once she realizes all is safe in her world, she really shows off how people oriented she truly is. She just wants to be loved. Alice is smart and eager to please. She is also crate trained. Alice does enjoy spending time with her foster family, kicking back and watching TV, but she desperately needs to find a permanent home to transition into. If you are interested in meeting this lovely girl, please contact DAWG to set up an appointment. E-mail: info@sbdawg.org Phone: 805-681-0561 or contact her foster family at 805-310-1331 (Less)

Adoption Fee: 250.00
Animal Location:

D.A.W.G.
5480 Overpass Rd
Santa Barbara County Santa Barbara, CA 93111 MAP IT!

| | | |
| --- | --- | --- |
| Contact: | | |